Face it – there's a lot to hate. If you're in a cranky mood about the stultifying SAMENESS of webcomics, then why not download this PDF and see what's bad about them. Link opens in new window, option/alt-click to save to desktop:
HEY KIDS! LET'S ALL HATE WEBCOMICS!
Print it out, save it, send it to someone else, link to this page, etc. Yes, please. You see, someone once told me that instead of complaining about bad webcomics, I should make a webcomic – see if I could do better. These sample frames should probably prove something: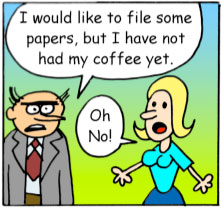 Looks like I cannot do better.
Oh boy, clearly I cannot do better, so it's a good thing I do not do this on a regular basis.