Negativland: Our Favorite Things – November 6-28
Nau-haus Art
223 E, 11th St. Houston Texas, 77008
Opening reception Sat., November 6, 6 to 9 PM
On display – and for sale – will be the bunny and kitty models I made for "Over The Hiccups." This glass case holds 8 of the head models I made for the dialogue. The process is detailed in my "Get Animated!" book and further explained on the DVD contained in that book.
They have been on display before, at the NYC and Minnesota shows. But they have never been for sale before. If you're an eccentric art collector, you should buy them.
Also on display, for the first time, the full sized bunny and kitty in an attractive foot-square glass box on their very own section of moon.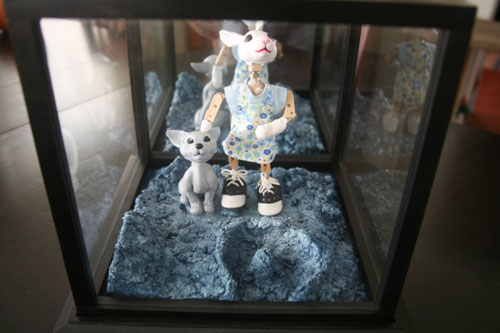 Negativland shows are always crazy fun, so if you're in the area, try to make it to the opening.
see more Negativland here: http://www.texascollaborative.com/Negativland.html
contact: Dan Allison, 281-615-4148
dan@nau-haus.com