This is Day 7 of the Cannes Diary 2007
Mercredi 23 Mai 07
Today I have employed a time-honored method of extending one's laundry with a thorough wash in the bathroom of your hotel. Be sure to pack (or purchase locally) some laundry detergent. You can use the sink for washing, tub for the rinse, and the electric hairdryer to speed up the drying process. A sock will fit over the hairdryer and will take approximately 3-5 minutes to dry completely. I heartily recommend this procedure for the traveler. In any event, I am reduced to this travesty because I cannot find a proper laundromat. Such things do exist in France; I have used them in Paris.
In fact, I had a rather amusing situation in Paris, in which I asked a news vendor for change. My French not being quite so good, I did not know what word to use to ask for "change." I compensated by holding out a bill and a coin, asking him if I could make THIS – wave the bill – into THIS – indicate the coin. The old guy smirked at me and suggested the proper term: "petit monnaie!" he barked. Obvious! "Little money!" Duh! he made me repeat it until my accent was perfect.
Then he continued. "No, can't give you that." Slight twinkle in eye. Bastard? Or off-kilter sense of humor?
I chose the latter. After all, he was bothering to teach me French. And rather than condemn him as a snotty frog, as so many Americans would, I decided my willingness to play along and actually try to pronounce his language properly may have helped international relations overall. We Americans have so much to make up for – George Bush notwithstanding.
In the end, he did tell me where I could get change, so my guess seemed more correct than not. But back to Cannes, where no coin-operated laundromat awaits me. I can dry-clean my clothes for exorbitant prices, or I can soak things in the sink. An early rise (argh) ensures that I will have something to wear later. Why choose? I use the sink for socks and underwear, but my shirts will have to be sent out to the expensive Cannes-La Bocca cleaners.
Back in town I realize I have been ignorant of one of my best resources available. I have been flapping my feet on the hot pavements of Cannes all day, waiting inbetween movies, when I could have been loafing in these air-conditioned hotels. I guess I've been somewhat put off by the security everywhere.
A copy of the Hollywood Reporter, freely available from just about any hotel, is the best way to keep the sun off one's head. Free, clean toilets, lots of reading material, lobbies with air conditioning – how could I have been so dim? Surprising that I have taken so long to work this out.
In any event, I'm soon in line again for the Quinzaine (clearly the venue with the best ratio of watchable films thus far), and I have a full day planned – including a billet for the Salle 60e and Nicolas Philibert's new film. The QZ line is definitely the worst. Out in the glaring sun and the reflection of several buildings, it's a real scorcher by 10AM, precisely the time I find myself standing in it. Some satanic force must behind the architecture and scheduling.
After 30 minutes I realize that I am in the wrong line for the film I want to see. My choice this morning is not the tedious French film I hear others discussing in line, but a Japanese film playing at the Critics' Week screening.
If you remember, the "Semaine International de la Critique," or "Critics' Week," is a parallel festival, affiliated with Cannes, but only unofficially. Not to be outdone by the Director's Fortnight or the "Un Certain Regard," a consortium of film critics also hold their own show during Cannes, known in English as simply "Critics' Week." To give you an idea of how people view film here in Europe, we need only look at the poster for the Critics' Week this year: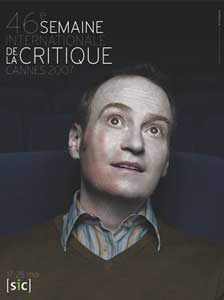 This image is brilliant. Here is the critic, who has been slapped across the face by the film. The film has somehow reached out there and confronted him in a way that has a physical effect on him. And look at his face. He is smiling. In admiration. In wonder at the effectiveness of that film. What better image can there be for the way that cinema works? Good cinema, anyway? If it's not kicking your ass like this then why bother with it?
Anyway, I scramble two streets over for the Critics Week screening. This new line is in the shade and nowhere near as long. Good thing, too, because the film I would have ended up in at the QZ was about a French guy who has a past and no doubt features some Middle Eastern conflict.
I make fun, and fairly constantly, about this aspect of the festival. Yet in all seriousness, at least Europe is aware that there is some kind of cultural clash going on in the world, and at least the French (for all the trouble they have with rioting Muslims) are able to express some of that in their cinema. The American cinema is too timid to take on the subject of Islamic cultures (except as convenient towelhead stereotypes acting as terrorists – c.f. "Iron Man"), even though we've been in a fruitless ridiculous war for over 5 years with Islamic cultures. So although the synopses of these Cannes films are practically identical, and although the attitude towards Islamic cultures is still one of exoticism, it is at the very least an earnest attempt to understand relevant issues present in everyday life. At least in the cities, it is.
Some cute teen just hiked up her skirt to hop over the fence here. I received a stellar view of her undergarments. Oh, la, la, les françaises.
These teens are all taking cuts so they can smoke together. People here sure have a funny idea about queuing. Now two more teens took cuts and a second teen bent over and offered a spectacular view of her boobs. At this juncture you, dear reader, must have me pegged as a terrible pervert. I'll not deny anything, but I'll also stress that these little moments have made an impression on me simply because they have been so plentiful and I am so unaccustomed to them. My little American provincial Calvinist/Victorian brain simply cannot handle it, and I am enjoying that immensely.
The Miramar (the venue for the SIC), like so many of these theatres, has comfortable seats and a good screen. It's not the best, but if this and La Licorne are the crappy theatres, then all American venues are super dumps. Cannes puts even the highest end LA theatres at serious disadvantage. And I don't even think these people are trying that hard.
FUNUKE SHOW SOME LOVE, YOU LOSERS – Dir. Daihachi Yoshida
The director of "Funuke" describes his film as a "burlesque."  In practice this seems to mean a contemporary Japanese broad comedy in the vein of "Taste of Tea" or "Survive Style 5″ though not as surreal.
The story concerns Sumika, a terrible would-be actress with a real rage problem who must return to the small country town she grew up in for the funeral of her parents. There she must live with her brother, his wife, and her younger sister Kiyomi. She is unwanted in Tokyo (her last audition ended when she threw a chair at the casting director), unwanted at home (although she bullies everyone mercilessly) and completely without direction. Sumika is like an unhappy cyclone that breezes through and wrecks everything in her path.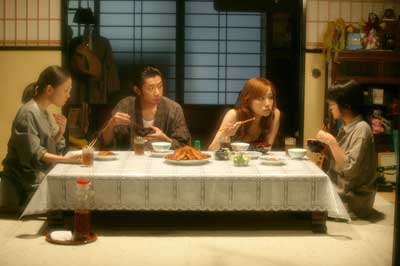 A terrible family, peculiar small country town, stylized shooting in HD that includes garish color sequences at the beginning – if American films could only dream of approaching this simplicity, we might have more to watch.
The interactions between the two sisters – one a vain but terrible actress, the other a quiet schoolgirl who draws unflattering comics detailing the older sister's life (which comics are subsequently published and bring the older sister humiliation and grief) – these relationships are as painful as they are funny, often awkwardly so. A slow shift is introduced into the film, whereby you laugh outwardly at the outrage of the setup, but then begin to feel strongly about the characters.
Definitely a sleeper of the festival, and a film that could teach a few other filmmakers a lesson or two.
Shown with the completely detestable short, "Rabbit Trouble," a CG heap that culminates in a shallow gag. Why do they do it? Filmmakers often ruin perfectly good shorts by making them end in a punchline – like a terrible joke your unfunny uncle insists on telling in inappropriate situations. Let's not even talk about this one – it's just too upsetting. And to describe it without a chorus of trombones wailing – "wah-wah-wah!" – cannot possibly describe the utter disappointment that the filmmakers have spent so much money and so much of our time (even scant minutes) with this cheap trifle.
Shut out of Harmony Korine's "Mr. Lonely" again! Not surprised. I try to sneak into a Market screening of the film, but after waiting for two hours at the head of the line, a group of us are shut out. Journalists and Market kids get to go in, of course. Moments later they walk out, but the bulls at the door do not let me take their places.
Nothing to do until 7PM tonight, so I attempt to go home and pick up my laundry. I seriously consider killing time at a market screening of Nic Roegâ's latest film. He's in his 80's now, and I'm sure he has totally lost it.
PUFFBALL- Dir. Nic Roeg
Have you been watching what Nic Roeg's been up to lately? Oh, please don't. It's quite upsetting. The last time I saw a Roeg film was almost 20 years ago when he was making messes like "Track 29." At the time I was attracted to any movie in which people behaved peculiarly, so I was interested. Once I went back and saw his 70's films I realized that the 80's work was the beginning of the end. But I like many Roeg films, and I'll even watch his B.O. disasters like "Eureka" and find something in them.
With a name like "Puffball," I thought he had truly gone mad, and that this would be a family film about a kitten. When many other curiosity-seekers lined up at the downtrodden and outright seedy "Star" theatre on the Rue d'Antibes, I thought that perhaps the kitten thing was improbable. Later, I wished that it had been about a kitten.
By the way, the "Star" theatres undo everything I said about the pristine and startling quality of Cannes film venues. It is every bit as terrible as, for example, The Beverly Center Theatres in Los Angeles, which I consider my gold standard for crappiness. That I have to go slumming it at he "Star" is a sad commentary on how low I'm sinking at this festival. "Import/Export" at the Lumiere is the high point, still.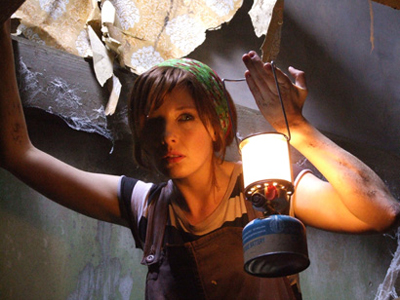 It's a big mushroom, of course, not a kitten. The puffball of the title, that is. But the film isn't really about picking mushrooms, either, sadly. A spoiled lady architect is renovating an old country cottage filled with memories. But the batty next door neighbors include three generations of witches who desperately want a baby boy – presumably to replace one who died in a fire at the cottage years ago. Oh yes, and somehow Odin is involved, as is an old druidic stone and Donald Sutherland, who shows up grinning wildly like he's been popping Xanax between takes.
The photography is full of Roeg's trademarked zooms and reframings, but it all looks weak from a guy who used to be a D.P. himself. And it is disjointed in a way that reminds you less of the brilliant storytelling in "Bad Timing" (1980) and more of a job simply not well done.
Ooops. I take the wrong bus and end up in the wrong area. I have an hour and three-quarters until the screening, but that's not going to be enough. I'm as far up as Les Terrasses, and I end up walking down some until the next bus stop. I crossed a freeway I had never seen before and that's when I began to panic. Had I been on the right bus I would be at Coubertain now, having picked up my laundry and able to get back in time. I stink like a pig from running around all day. I just moved way over on the bus bench where I'm waiting for the next arrival, because some girl just sat down and I worried my stink waves could kill her.
Why don't the locals seem to have the hygiene problem I seem to have developed? At home in L.A., which is far more arid, I never have these problems. Cannes has somehow stimulated my stench glands, and I am more than usually aware that I am – as we say – not so fresh.
My little notebook is running out, and the binding is breaking anyway. I will have to find a replacement soon. I have filled it with so many tiny scribbles the locals must think me a proper madman, ready to start raving and screaming about UFOs at any moment.
With so much time alone with just me and the notebook I feel I am getting kind of strange. I smell terrible and I say nothing to anyone except to scrape out a few words in French when I must. I say "pardon" a lot. I had heard my companions mention the Nicolas Philibert movie this morning, so I hoped I would see them at this screening, but it turns out they have already seen it at an earlier press screening. I am alone, once again.
An English lass and her French friend are actually having a decent, intelligent conversation in front of me in this line. It was only yesterday I was in this exact same place, in line for the Salle 60e, listening to Jess and Grayson drone on about themselves. These two, in marked contrast, are my heroes – talking animatedly about films that seem worth watching. No "Death Proof" for these girls.
I worry they can smell my hideous odor, but I am also fascinated by how vacuous they aren't compared to their American counterparts, so I may be inching closer, just to hear them talk.
RETOUR A NORMANDIE – Dir. Nicolas Philibert
M. Philibert's first job out of college was apparently as an assistant director on a film adaptation of "Moi, Pierre Riviere," a 19th century murder confessional unearthed and edited by Michel Foucault. Thirty years later after the film, Philibert tracks down all the non-professional actors who were used in the film.
When this film goes into high Philibert style – retarded folks at a special school, hog butchering, people staring for long periods – it is at its best. The images are serene but awkward, interesting in every corner, and somehow iconic.
Second best is the Michael Apted "Up" films mode, whereby Philibert has his actors show pictures of themselves in the film and talk about those experiences way back when.
Least successful is when Philibert himself becomes the subject of his own film (the Michael Moore mode?) and it dies a painful strangulated death.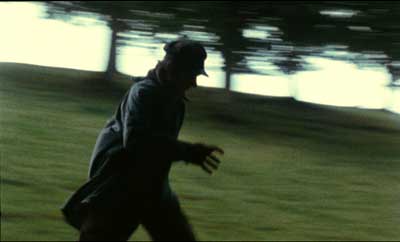 It's a trend on the rise, for sure. Errol Morris's best work has been marred by the director's intrusion into the material, and as he seems to be more and more willing to make a personality out of himself, his films are less compelling. Since Philibert is actually so very good (both "To Be and To Have" and "In the Land of the Deaf" were fabulous) it does not make sense that he'd suddenly turn the camera on himself, the least interesting aspect of "Retour."
It's vain. Even the final moments of the film, where Philibert reveals his most personal connection with the film, would have been strengthened by removing the shots of him straightening his glasses or studiously paging through musty documents in an archive. Glad I saw it, but definitely minor work.
When the film lets out it is 10:30PM. At the bus stop people are pushing like hogs trying to get in the pen. I already smell bad enough – I'm certainly adding to the unwholesomeness of this atmosphere. The bus driver will allow people on board until the stench of humans is so unbearable no one can tolerate it. Then he will drive on, causing us all to suffer as much as we possibly can. Only when the bus is a sweltering stewpot of body odors and sweat will he shut off the engine – and the A/C – just to punish us. Because we are all such stupid, selfish apes, we will not stand in line orderly enough to ease the process.
At least I've made the last bus out, though, and I do not have to walk the several kilometers back to the hotel. And when I return at least there is underwear and socks dried out from the late night washing. My shirts are another matter. I crawl into the trundle bed, as my companions are fast asleep. I only see them in light of the red power indicator on the hairdryer in the bathroom now.
End Day 7