There is no such thing as Old Joe Comics. No one wants to read this comic, just look at it! It would fairly well frighten any children who came across it, and adults seeing that face would only be given a grim reminder of the ignoble fate that awaits us all – if we're lucky – to become decrepit and frightening to children. I know I'm on the way.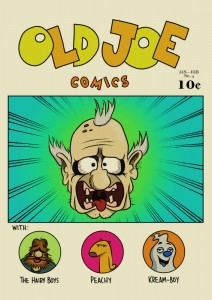 If that's not enough, look at the supporting features here. We're promised a backup story with "The Hairy Boys," no doubt one of my least popular creations ever, a story featuring "Peachy," a stinky weasel, and finally a nightmarish tale of disgusting frivolity with the odious "Kream-Boy," whoever he is. Reading his comic would surely destroy your mind.
This is the first file I've made on the old-but-very-new-to-me-and-I'm-lucky-to-have-it-Cintiq, an 18sx from about 2004. It makes me letter better than I ever could by hand.