Faculty meetings can be pretty dull.  But I'm always only a few pen strokes away from keeping myself entertained.  Over the years I've built up quite a collection of doodles from these meetings.  If I had thought a bit, I should have been drawing them in the same book all along.  As it stands, they are a pile of papers, agendas, meeting notes, and schedules.
Sometimes they are aimless noodling – geometric shapes, cryptologia, and asemic writing.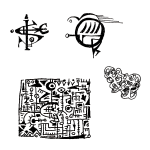 Far more often they are figures.
I like giving them names quite often.
Sometimes they can get pretty elaborate.
Mostly they are disconnected figures, as if from some not-yet-designed comic book no one would read.
Once in a while they actually start taking on shape as little narratives.
So far I've not really been caught at it.  Occasionally a colleague sitting next to me will notice, but I've not yet been called out on it.  Perhaps everyone is too polite.